Manage your transactional messages by email and/or SMS with confidence
Account opening, order confirmation, delivery notification, product availability alert, appointment confirmation, invoice sending, access data retrieval… Whether your messages are sent by email or SMS, Campaign optimises all the processes involved in sending your most legitimate communications.
Reliable transactional sending
A dedicated routing infrastructure for optimal and instantaneous delivery.
Optimised and designed service messages
Transactional sending can also mean high-quality, visually appealing communications.
Professional sending via secure APIs
Your service messages are driven by your own tool via API and are protected during the entire sending process.
Advanced monitoring of your transactional messages
Benefit from real-time traceability and monitor the correct reading of your messages.
Automate the sending of your service messages
 Campaign automatically and securely addresses your transactional messages.
 A single tool to manage your transactional and marketing messages on email and SMS channels.
 The management rules and the elements that trigger the sending of your service messages are controlled from your own technical infrastructures / information systems (e-commerce, CRM, ERP, mobile application, etc.) directly by API or SMTP relay.
 Your transactional messages are sent in real time.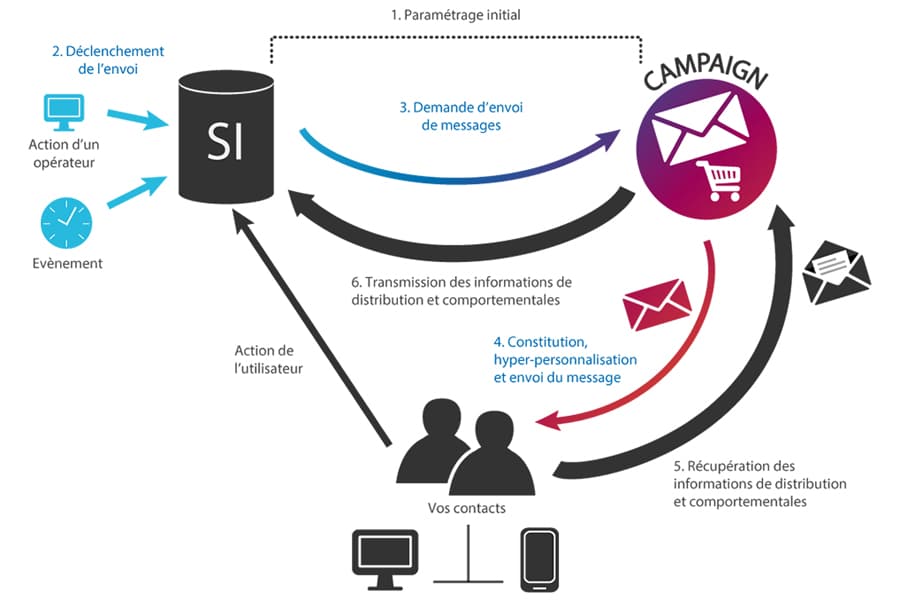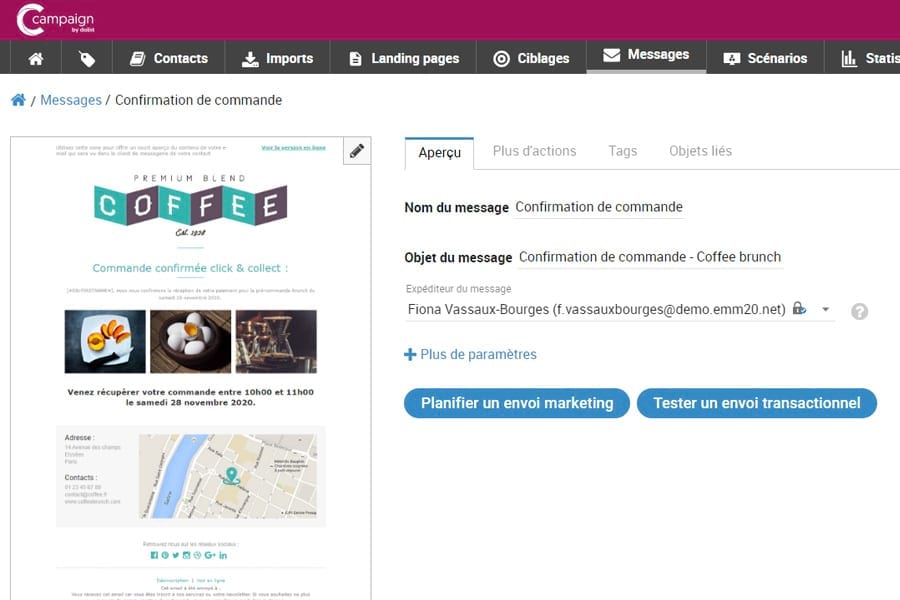 Improve the deliverability of your service emails
 Your service messages benefit from impeccable deliverability and security.
 They are treated as a priority by Campaign and are distinct from marketing campaigns.
 Dedicated IP, SPF / DKIM / DMARC domain authentication, sending rhythm, specific APIs, heating plan, O.P.E.R.A. supervision technology, etc.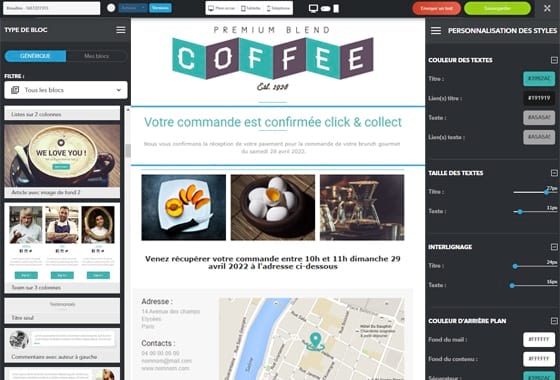 Improve the quality of your transactional emails
 Design, customise and test your service messages directly from Campaign.
  Create your own HTML templates for your service emails to reflect your company's image, without compromising the deliverability of your communications.
 Your transactional emails are automatically optimised for all forms of viewing (HTML or text, with or without images, webmails, email customers, smartphones, tablets).
 Sending invoices, contracts, quotes… Do you need to include an attachment in your service messages? With Campaign, it's no problem at all and there's no risk to the success of your communications.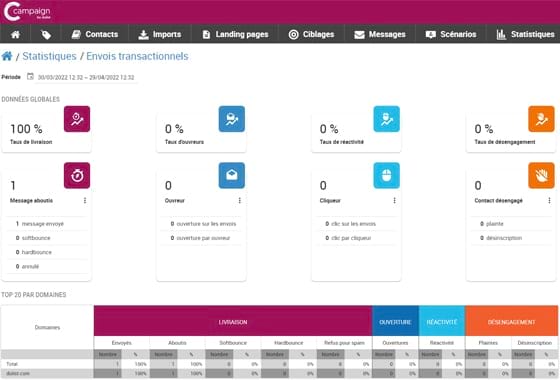 Ensure the traceability of your transactional sendings
 Multiple indicators at your disposal to monitor and analyse the performance of your transactional sendings: completed, in progress, opens, clicks, bounces, NPAI, browsers, operating systems, etc.
 Verify in real time that your transactional messages are being received.
 Get all your sending statistics: a global view by campaign, but also an individual view by contact for a personalised follow-up.
 All the statistical data from your transactional sendings can be retrieved via API.
FAQ on sending transactional messages via Campaign
The Campaign platform provides you with a Deliverability Pack. This includes several technical elements, including authentication standards, a pool of IP addresses dedicated to each customer account, the standardisation of the domain name in all the components of your email messages (sender address, reply address, etc.), personalised tracking URLs, etc. In the case of transactional campaigns, a new IP address, totally dedicated to this type of sending, is provided. This technical infrastructure ensures total control over your technical reputation as a sender.
Campaign allows you to send transactional messages, such as order confirmations, delivery notifications or invoices, via email or SMS channels. These are triggered directly by your own information system via the Campaign API. They can be created and tested directly from the interface before being deployed via API. Campaign benefits from a specific technical base for this type of sending, ensuring optimised email deliverability (rhythm, dedicated IP, etc.).
The automation of your data imports/exports with the Campaign platform can be achieved through a variety of data flow exchange methods (API, FTPS, Webhooks, Zapier, file repository….), all of which meet a high standard of security. In addition, the API architecture in microservices allows you to wire only the functionalities you want to integrate into your tools, without any superfluity. Find out more about the Email and SMS APIs available here.
Campaign integrates an ultra-intuitive Email Builder, in Drag & Drop mode. It allows you to create email templates optimised for Responsive design, deliverability and accessibility in just a few clicks, without the need to code. This applies even to transactional messages. Your communication/marketing teams have full control over the creation of transactional messages (email and SMS) from the Campaign interface and can test them independently before activating their automatic triggering via API.
Campaign by Dolist allows you to follow the behaviour of a particular contact and to consult their history at any time. This way, you can find out in each contact's file how many messages they have received from you, how many they have opened, how many messages they have clicked on, as well as the detailed list of these messages.
The Campaign platform can be continuously synchronised with your information systems (ERP, CRM, CDP, e-commerce platforms, business software, etc.). You can centralise your marketing data on Campaign, or decide to integrate and control the platform's functions directly from your own tools using an API. Find out more about Campaign's Email & SMS APIs and our technical support services here.