Create your messages easily with our Email Responsive Builder
Responsive messages for all screen sizes and optimised for deliverability without any technical knowledge required.
Easy and intuitive design of your emailings with a user-friendly interface, Drag & Drop, ready-to-use templates and content blocks, storage and editing of your images…
Your messages are effortlessly personalised thanks to multiple categories (database fields, senders, objects, content and links).
  Precise targeting of your contacts
Reach all or part of your audience.
With our powerful audience segmentation tools, filter your database using the information at your disposal: contact details, purchases, online sales, behavioural data taken from previous campaigns (links opened, clicks etc.), but also information about the marketing channels (ISP domains, mobile operators etc.).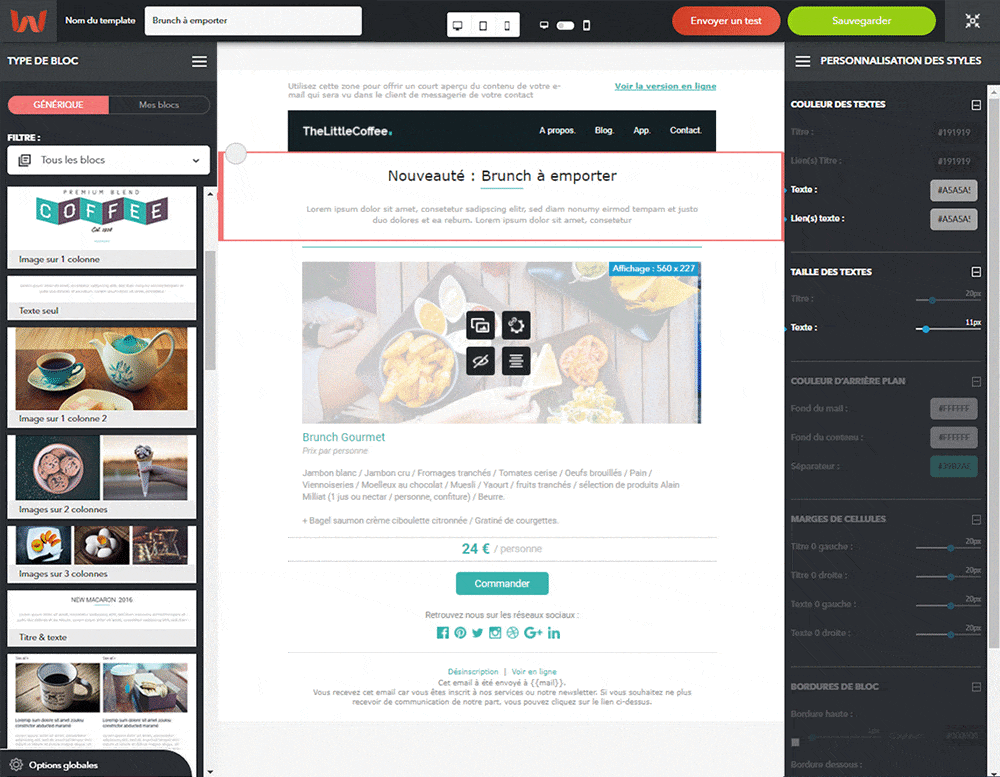 Improve your sending performances with A/B Testing
Test up to 5 versions of the same message by modifying any component (sender, content, design…) on a random sample of contacts present in your final targeting.
Identify the best performing version according to the indicator of your choice (open rate, click rate or unsubscribe rate) and then manually or automatically send the one that performs best. Simple and effective!
  Your SMS campaigns in France and abroad
Easily create and manage your SMS campaigns in France and abroad.
Customise your SMS using all the fields in your contact database. Preview your SMS on mobile phones.
Instantly visualise the length of the message and any errors (forgotten unsubscribe link, variable errors, etc.).
Plan your SMS campaigns according to the time periods of your choice in accordance with the legislation (commercial SMS messages are forbidden during the week between 10pm and 8am, as well as on Sundays and public holidays).
Find out about other Campaign features :
Centralise your Data

Collect & manage your contacts

Automate your Marketing & transactional campaigns

Optimised email deliverability

Analyse your audience and Marketing performance