Your optimised email and SMS campaigns easily designed and accurately targeted
Create messages and landing pages without any technical knowledge so that they are effective on all readers and natively optimised for deliverability and digital accessibility. Address your audience specifically and analyse your campaign performance in detail.
Email Responsive Builder
An editor to easily create emails optimised for responsiveness, deliverability and accessibility.
Landing Pages Editor
A drag & drop design of your Responsive landing pages, with or without forms.
Your centralised email & SMS sending
A single tool to manage the creation, targeting and sending of email and SMS communications.
Advanced data segmentation
Infinite targeting capacity to exploit all your contacts' data.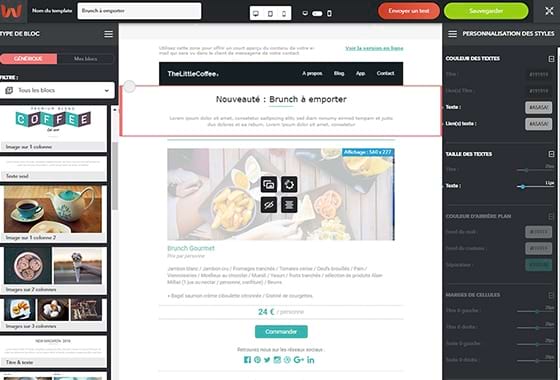 Easily design high quality emails
 The design of all your email messages accessible to all, via an intuitive Email builder and a drag & drop system.
 Ready-to-use templates and content blocks with integrated image storage and editing.
 Your emails optimised for Responsive, deliverability and digital accessibility.
 Multiple possibilities for personalising and dynamising your content.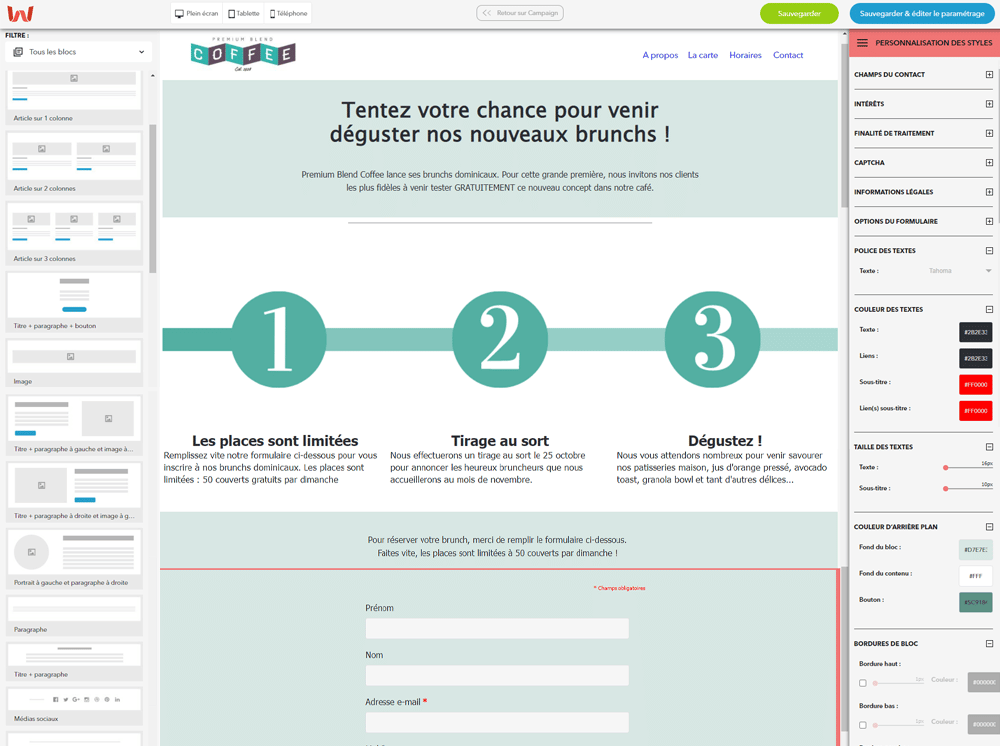 Create your landing pages in a few clicks
 An easy-to-use Responsive landing page editor, with drag & drop creation and multi-support preview.
 Ready-to-use and customisable templates and content blocks to build pages, with or without forms.
 A SEO module to reference, or not, your landing pages on search engines.
 Unlimited design of your web pages with a simplified uploading process.
Target your contacts with great precision
 A segmenter allowing you to create fixed or dynamic targeting based on numerous criteria (contact and behavioural information).
 All available data can be combined to target your audience with precision (contacts, purchases, e-commerce, email and SMS behaviour, ISP domains, etc.).
 Targeting based on subscriptions to which your contacts have consented (opt-in by purpose).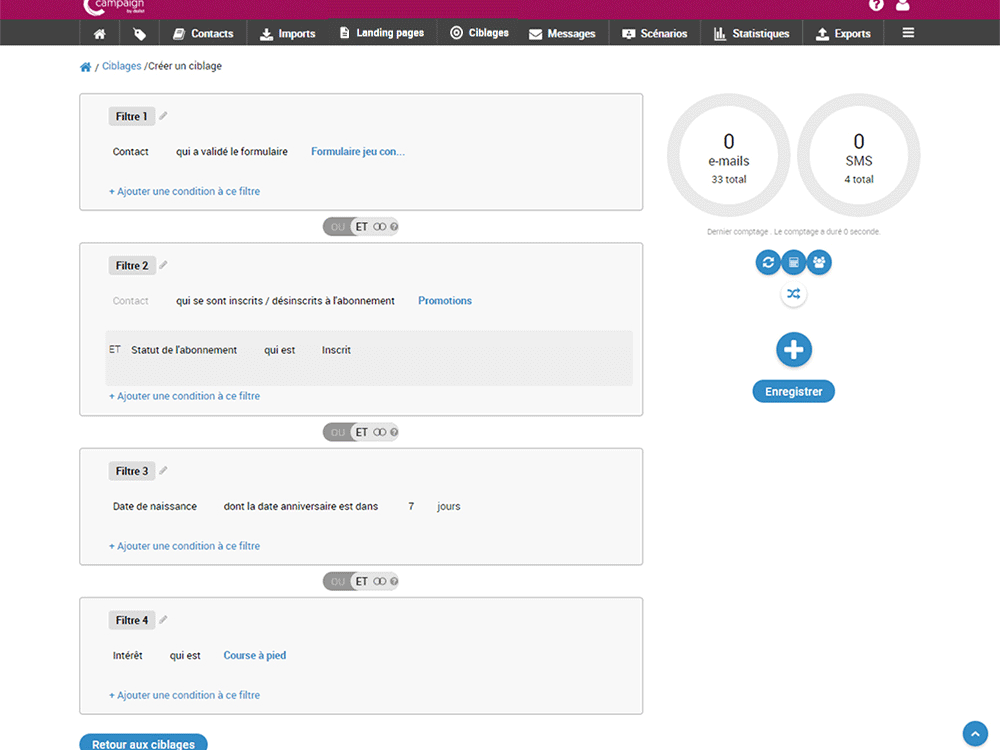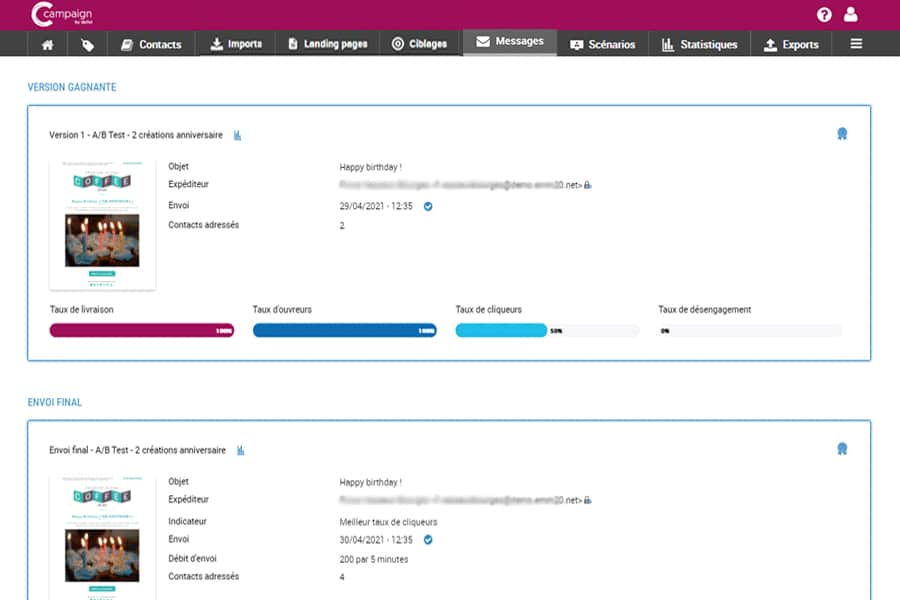 Improve your creations and results with A/B Testing
 Test 5 versions of the same email message (graphics, content, subject, sender, etc.).
 Automatic creation of targets on a random sample of contacts to address the different tests.
 Manual or automatic final sending according to the indicator of your choice: opening, click, unsubscription.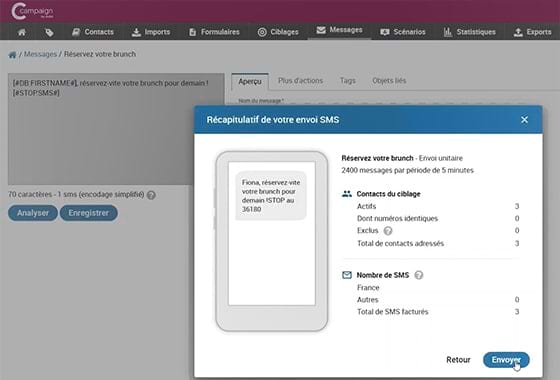 Your SMS campaigns in France and abroad
 Easy creation and sending of your SMS campaigns, in France and/or abroad.
 Customisation of SMS messages using all the fields in your contact database.
 Preview of your SMS on mobile phones with alerts on possible design errors.
 Planning of SMS messages according to the time slots of your choice in accordance with the legislation.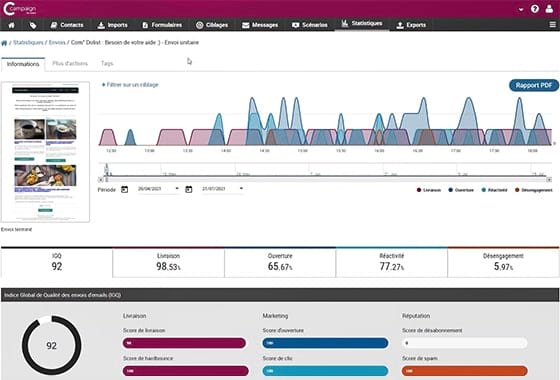 Analyse your performance in a few seconds
 Multiple indicators to evaluate the activity of your contacts and the overall performance of your campaigns (delivery, openings, reactivity, clicks, by domain name, etc.).
 Analysis of the engagement, behaviour and disengagement of your audience globally, by campaign or individually.
 The GQI (Global Quality Index), a unique indicator to expressly evaluate the strong and weak points of your campaigns.
 A heatmap to identify the hot zones of clicks on your messages.
FAQs on creating and targeting email & SMS campaigns via Campaign
Campaign integrates an ultra-intuitive Email Builder, in Drag & Drop mode. It allows you to create email templates optimised for Responsive design, deliverability and accessibility in just a few clicks, without the need to code. Focus on the content of your messages, as the Email Builder takes care of the quality of the encoding for you!
You can integrate shortcodes (also called variables) into the template or the subject of your message (email or SMS) which will allow you to personalise the content according to your recipient. For example, you can automatically display your contact's first name or any other information present on the platform (last product purchased, favourite shop, birthday, link to the last product visited, etc.).
Absolutely! Campaign includes a very practical "Email Rendering" function. With a simple click, you can test your email on the main email customers, webmails and browsers on the market, as well as on desktop, mobile and tablet devices. This is ideal to ensure that your creation is displayed as you expect, regardless of your contacts' equipment.
In order to help you save time, Campaign's Responsive landing page editor includes ready-to-use templates and content blocks. With or without a form, one or more columns… select the template according to the purpose of your page. Then customise it as you wish using the content blocks that you can move or add in Drag & Drop mode. All the components (text, colours, margins, images, etc.) can also be modified.
Our Campaign platform provides you with numerous indicators to measure the performance of your email and SMS campaigns. The Global Quality Index developed by Dolist allows you to expressly evaluate the strong and weak points of your campaigns, using a score ranging from 0 to 100. Would you like to conduct a more detailed analysis? No problem! In the statistics for each campaign, you will find indicators on: delivery, opening, click and disengagement rates, as well as their distribution by domain name, by browser, by type of device, etc. Finally, a heatmap identifies the hot zones for clicks on your messages.
The Campaign homepage provides a dashboard showing your overall performance, such as your Global Quality Indicator score (weighted according to criteria relating to delivery, reactivity and the reputation of your last sendings), the volume of emails and SMS messages sent in the last 30 days, as well as a summary of the performance of your last 10 sendings and the evolution of the status of your email and mobile contacts over time.
Campaign by Dolist allows you to follow the behaviour of a particular contact and to consult their history at any time. This way, you can find out in each contact's file how many messages they have received from you, how many they have opened, how many messages they have clicked on, as well as the detailed list of these messages.