Develop an acquisition and respectful qualification strategy for your contacts
  Responsive & omni-channel data collection forms
Fully customisable, for collecting new contact information or getting to know your existing contacts better (sign-up forms and further info).
Compatible for integration with multiple tools and platforms, to maximise your data collection opportunities (websites, blogs, point-of-sale terminals, social media, mobile apps etc.).
Setting up automatic confirmation emails for contacts after validation of a form and notification of your teams.
Collect & Manage your contacts' consents
Ensure compliance with your contacts' rights and European legislation (GDPR) with the proper collection and management of your contacts' consents.
Centralise their consents in a single point and import existing evidence of your contacts' opt-ins (registration, history and retention period). Offer theme-based subscriptions to obtain consent for specific purposes in your collection forms.
Finally, guarantee the right to unsubscribe by relying on a one-click automated mechanism.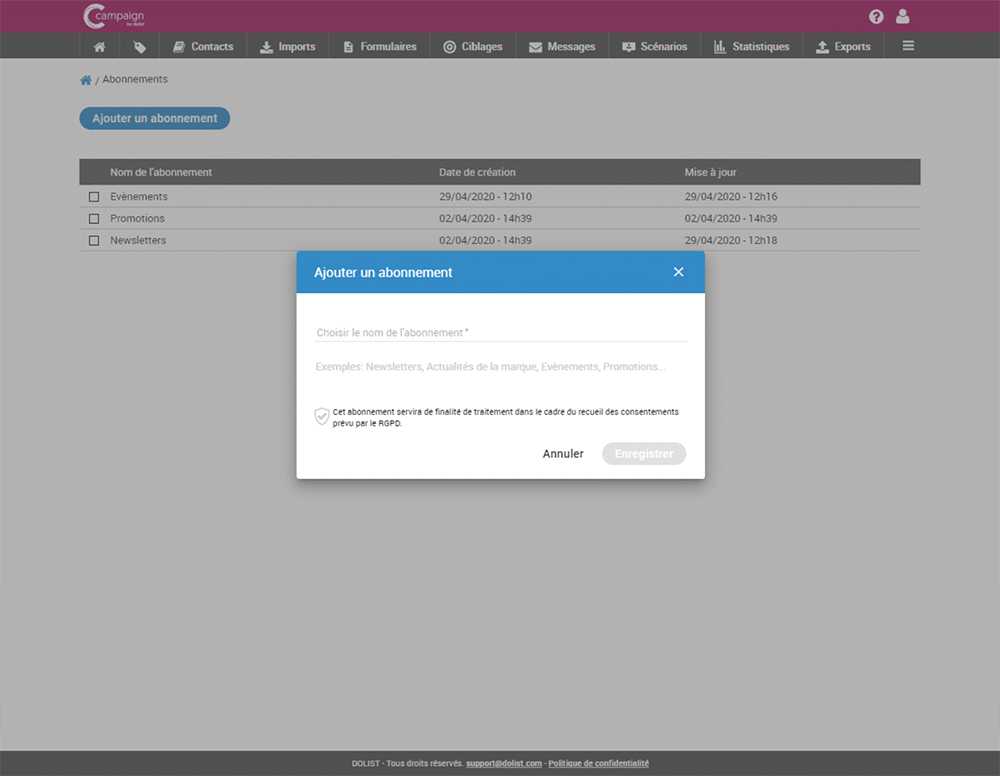 Management of subscriptions and unsubscriptions by theme
Set up subscriptions to your email programmes by theme and purpose to ensure targeted subscriptions and unsubscriptions.
Simplified incorporation of your subscriptions into your collection forms to increase the number of subscribers to your different programmes.
Targeting contacts subscribed to your programmes in a few clicks in order to send the associated e-mail programmes.
  A healthy, optimised contact database
Automatically remove repeat entries, correct syntax errors in email addresses and domain names etc.
Automatically identify the country of origin of your contacts based on their telephone dialling codes.