Your collection of qualified contacts for a quality database
Develop an acquisition and qualification strategy respectful of your contacts, guaranteeing their consent and the compliance of your practices with the GDPR while ensuring the quality of your collection and your database over time.
Optimised collection
Customisable, responsive and secure landing pages and collection forms.
In compliance with the GDPR
Centralised consent from your contacts with a management of opt-ins by purpose.
A quality contact base
The acquisition of valid contacts coupled with a sustainable qualification and hygiene base.
The commitment of your new contacts
Monitoring the reactivity of your new audience to act and develop lasting relationships.
Automatic collection and management of consents
 Centralisation of your contacts' consents with import of pre-existing proof of opt-in.
 Consent management via subscriptions by topic and purpose.
  Easy integration of your subscriptions into your collection forms to feed your database.
 Easy targeting of subscribers to your subscriptions to send the associated email programmes.
 Automated management of unsubscriptions by purpose and/or globally.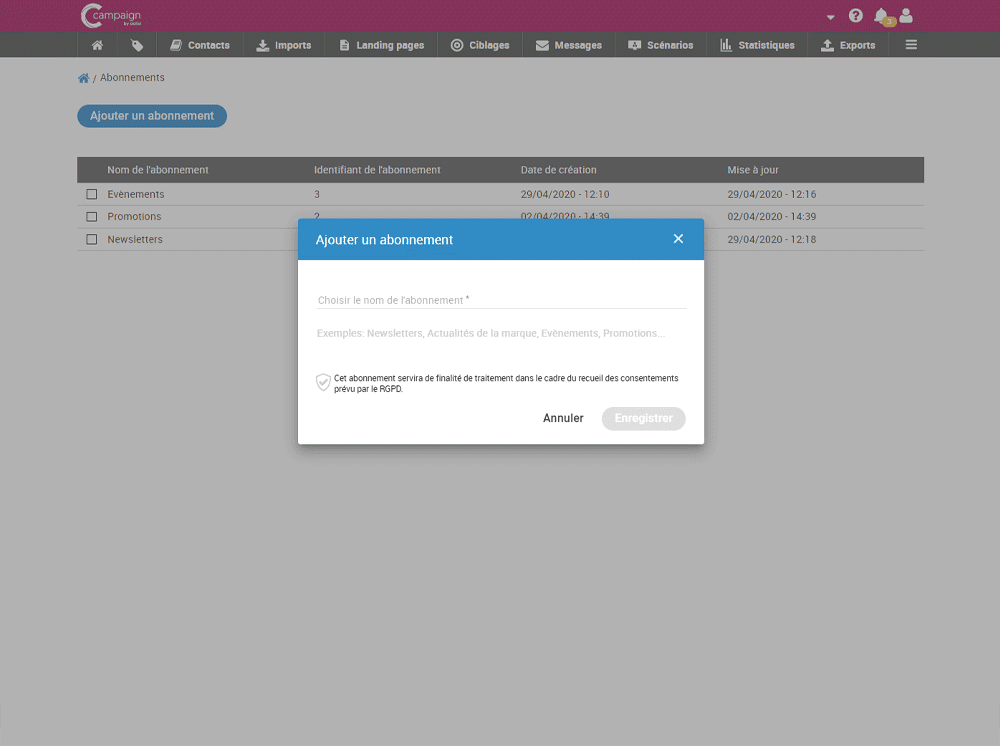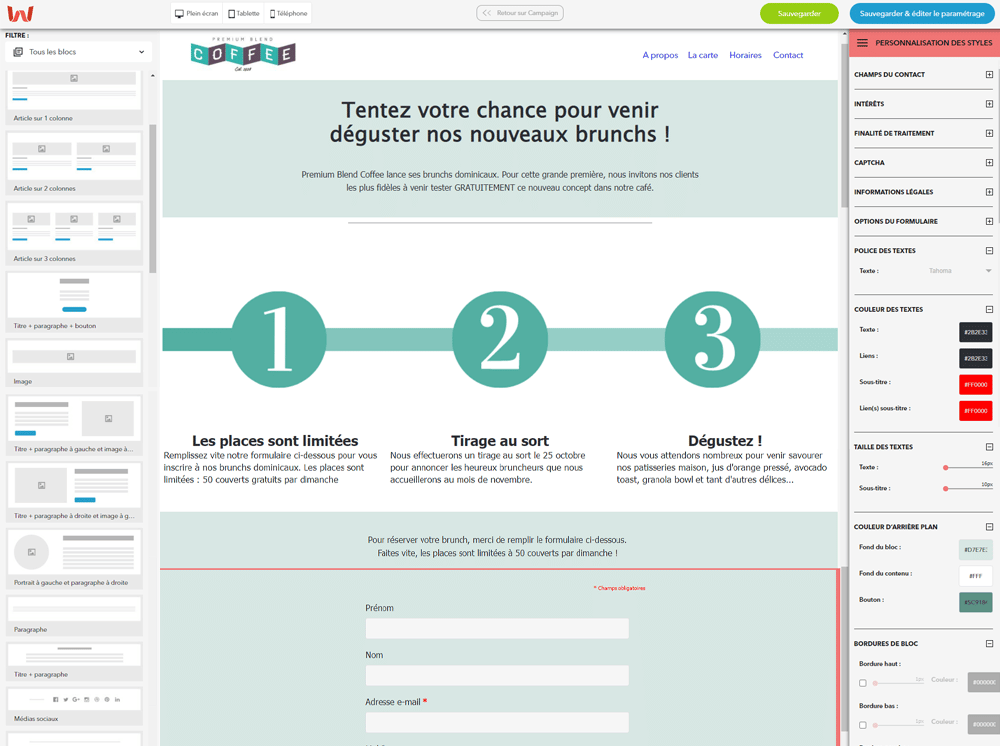 Acquisition forms and landing pages
 Customisable at will to collect new contacts or to get to know existing ones better (registrations, invitations, competitions, etc.).
 Drag & drop design of Responsive acquisition pages thanks to a landing page editor, with templates and ready-to-use content blocks.
 A SEO module to enable you to optimise the referencing of your landing pages.
 Forms which can be integrated into all your communication media to seize all acquisition opportunities.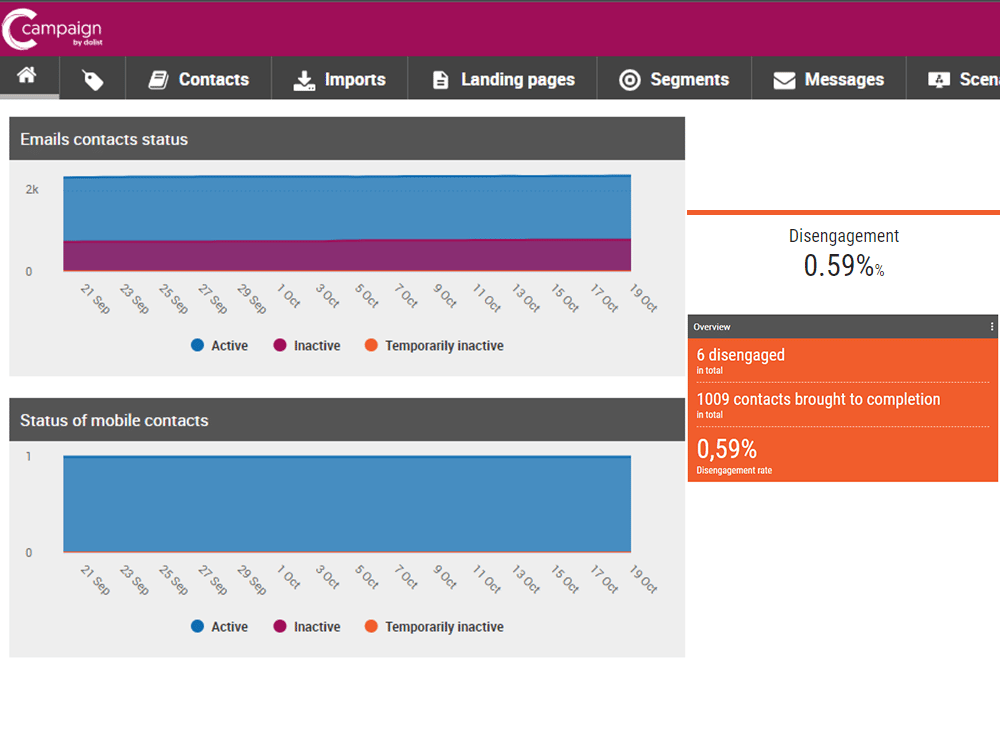 A healthy and optimised contact database
 Ensured database hygiene with verification of new email addresses, automatic deduplication of contacts, syntax correction of incorrect addresses and domain names, etc.
 Automatic and real-time processing of unsubscribe requests, spam complaints, unreachable/bounces.
 Qualification of contacts with data enriched by their online actions and behaviour.
 Automatic identification of the country of contacts according to the telephone number code.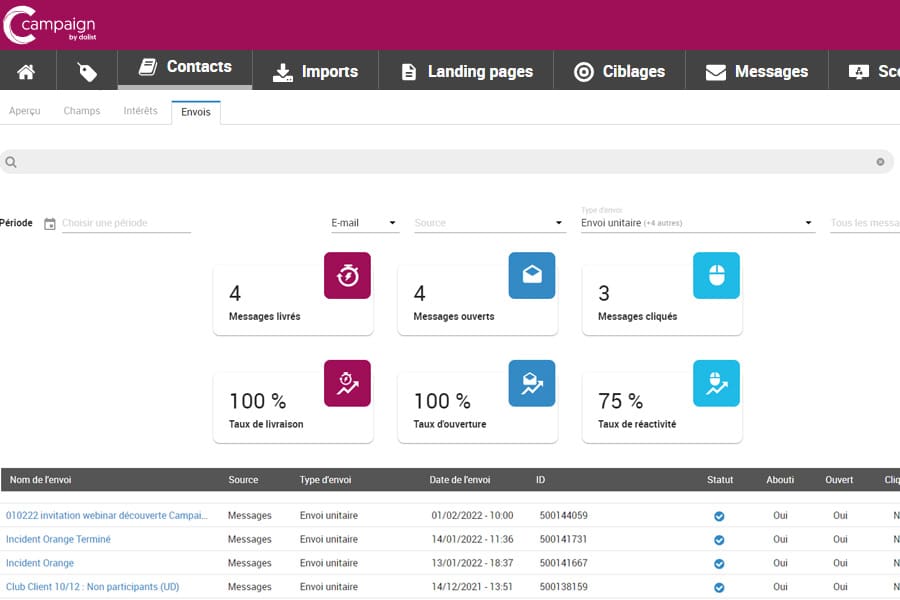 Global knowledge of your database and your contacts
 Complete statistics on your contact base: active, inactive, temporarily unreachable, unsubscribed, evolution over time.
 Nominative statistics and behavioural monitoring to identify the most engaged and reactive contacts to your different contents.
 Disengagement analysis with multiple statistics: unsubscribes, spam complaints thanks to feedback loops between Dolist and the main Internet and email providers.
 Automated and secure exports of contact data and statistics to a remote server.
FAQ on collecting and managing contacts via Campaign
On the Campaign platform, you can import your contacts' consents (the date, place and purpose of each consent obtained), but also collect new ones via forms. These consents are in your account and you can retrieve them at any time via the record of each of your contacts.
You can import your contacts' pre-existing proofs of consent into the Campaign platform in a single operation. You will then be able to retrieve each contact's own information, such as the purpose, date and location of the consent granted.
The Campaign platform ensures the quality of your contact database. Campaign deduplicates your contacts and detects and corrects syntax errors in email addresses and domain names. It automatically identifies the country of your contacts based on the area code on their telephone numbers. Our consultancy service can also help you to go further in optimising your data: a hygiene audit of your contact database, personalised recommendations, and a proposal for an operational and realistic action plan.
Through Campaign's integrated landing page editor, you can create as many forms as you like, whether to collect new contacts or to better qualify existing ones. The forms can be customised at will: choose the fields to be displayed, change their order using Drag & Drop, add a checkbox to collect your contacts' consent, a Captcha or your legal information, define the colours and typeface, set up automatic confirmation emails, etc. The forms created in this way are Responsive Design, readable and can be integrated into all your online media as well as into Campaign landing pages.
Campaign has a very simple landing page editor. It allows you to easily create customised, responsive landing pages in drag & drop mode, without having to create or modify HTML/CSS code. You can choose whether or not to integrate an acquisition form You can thus quickly deploy your collection or animation operations (newsletter registration, event invitation, resource download, competitions, etc.) or simply create the landing pages of your email messages (thanks, confirmation, information, etc.).
Once you have configured your form as you wish and finalised your acquisition page, you can directly integrate a specific link variable into your e-mail message. This offers the advantage of automatically pre-filling the form fields if your contact data is already stored in your database.