All your data
automatically synchronised and securely centralised
Automatically centralise all the data from your different information systems (CRM, e-commerce, mobile application, ERP, marketing tools). Benefit from all the interactions with your contacts to deploy the most relevant marketing and transactional campaigns possible. ​
A multi-dimensional database
Purchases, web visits, points of sale…. Centralise all your useful data, regardless of their origin.
Synchronised data with complete security
Multiple secure data exchange methods and protocols: API Rest, JSON, FTPS, CFT, Zapier, Webhooks, etc.
Digital sovereignty of your data
Secured, developed and hosted in France, Campaign promotes your technological independence thanks to strong connectivity.
Support for connecting your data
Complementary technical assistance services to connect and/or integrate Campaign with your IS and marketing systems.
Make the most of all your customer data and interactions
 Centralise all your data, regardless of their origin (CRM, e-commerce, mobile application, ERP, marketing tools).
A multi-dimensional data model to accommodate all your useful data (purchases, purchase details, products, business entities, personalised data).
 Numerous customisable contact database fields to meet all your needs.
 As a Customer Data Platform, segment, personalise and automate your Emails & SMS campaigns.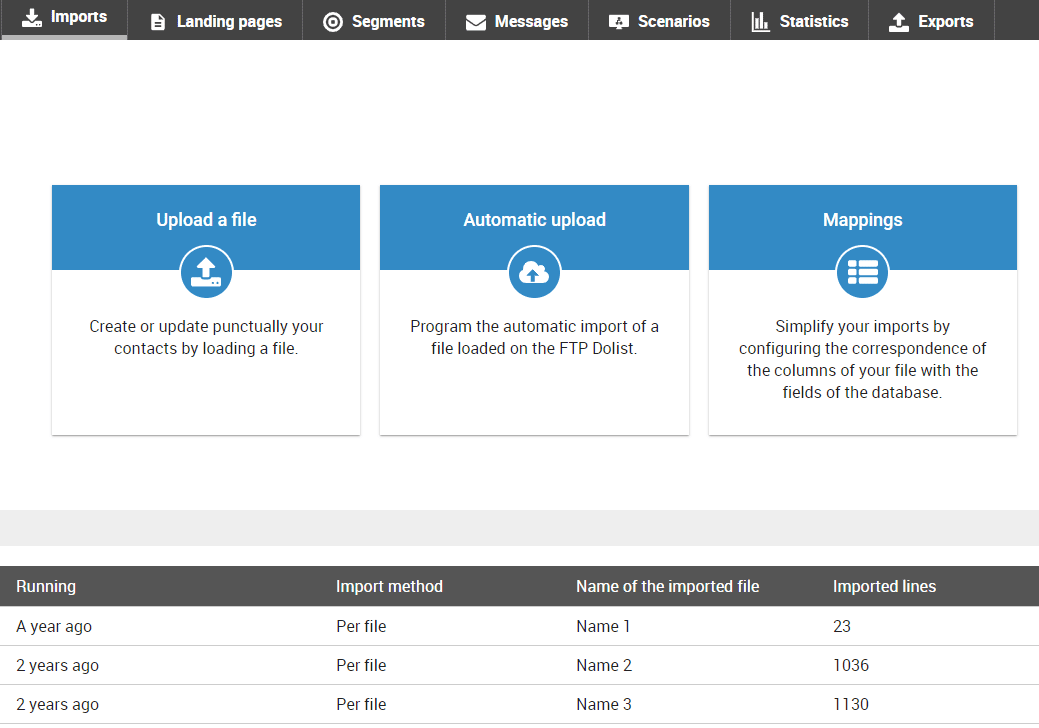 Flexible data synchronisation methods
Your information systems (ERP, CRM, e-commerce platforms, business software, etc.) continuously synchronised with Campaign.
 Standardised technologies to import your data: file exchanges, FTPS, REST API, Webhooks, Zapier, JSON, etc.
 Automated and secure synchronization of your data exports to a remote server (FTP, SFTP (ssh), Amazon S3, WebDav, DropBox, etc.).
 Automated import & export of all your contact data and statistics.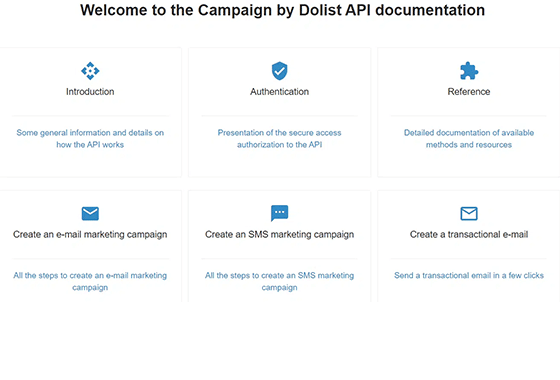 Manage your contacts & actions via API
 Manage your contacts and campaigns from Campaign or via API from your own tool.
​ Identical API methods for e-mail and SMS. Monitored, they are open to tests and can be quickly integrated.
 Configure Webhooks from the Campaign APIs to be alerted in real time of an event (opening, click in a message, addition of a contact to the database, etc.).
 Discover and test the Campaign APIs here.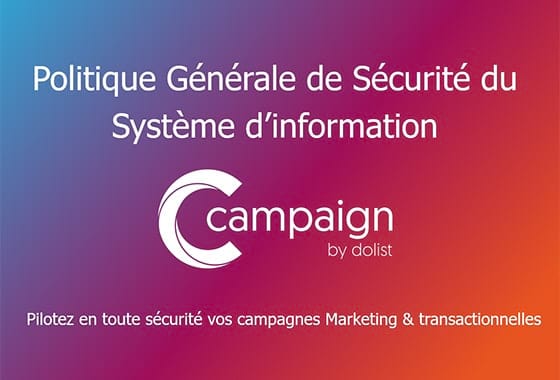 Campaign, a guarantee of security for your data
 An optimised technical foundation in terms of data security, access and processing, with regular tests and permanent monitoring.
 Protocols and methods governed by a comprehensive and up-to-date General IT Security Policy (GISP) (hosting, authentication, access, transmission).
 Extensive R&D with the involvement of recognised professional bodies to ensure continued quality and security of routing.
FAQs on data centralisation and management by Campaign
On the Campaign platform, the volume of your database is unlimited, regardless of the package you choose. You can use the numerous ready-to-use fields to classify your contacts or create new ones completely customised to meet your specific needs.
With the multi-dimensional database available on Campaign, it is entirely possible to synchronise, centralise and exploit your marketing data, whatever their source (CRM, e-commerce, mobile application, ERP, marketing tools). The Campaign platform can host up to 5 specific tables (purchases, purchase details, products, business entities, personalised data). A technical support service for connectivity is also available to help you accelerate the deployment of your project.
The Campaign platform can be continuously synchronised with your information systems (ERP, CRM, CDP, e-commerce platforms, business software, etc.). You can centralise your marketing data on Campaign, or decide to integrate and control the platform's functions directly from your own tools using an API. Find out more about Campaign's Email & SMS APIs and our technical support services here.
The automation of your data imports/exports with the Campaign platform can be achieved through a variety of data flow exchange methods (API, FTPS, Webhooks, Zapier, file repository….), all of which meet a high standard of security. In addition, the API architecture in microservices allows you to wire only the functionalities you want to integrate into your tools, without any superfluity. Find out more about the Email and SMS APIs available here.
A Dolist team dedicated to connectivity and technical support for our customers is available to help you deploy your project. A technical project manager will help you define your synchronisation strategy, assist you in your integration project and its technical/functional specificities and support your development teams to optimise the processes.
Our customers' data is hosted in a contractual framework of strict confidentiality and is isolated. All sensitive data and customer data are stored in France, on a SAN (Storage Area Network) via a dedicated internal fibre optic network which benefits from preventive maintenance several times a year. Protected by a firewall, your data is stored in a space completely dedicated to you, backed up daily and accessible at any time.
The SQL servers hosting our customers' data are only connected to the internal network: they are not accessible from the outside, which guarantees total protection. They are also physical servers in order to guarantee the highest level of security and performance.
The email and web servers are protected by firewalls and data insertion is controlled by internally developed scripts. Proactive and preventive maintenance is regularly carried out on the servers, software, disk space, etc.
The Data Centre hosting Dolist's Campaign platform is classified as TIER III+ (anti-intrusion and fire security, access limited to authorised staff, continuity of cooling and electricity). The network is redundant on 2 telecom operators to ensure high availability of our services. It is protected by redundant firewalls and benefits from the anti-DDOS (denial of service attack) protection system.
Since 2015, Dolist has been conducting regular intrusion tests to ensure that our organisation is completely secure with regard to user data. Our practices, processing methods and technical infrastructure are governed by a General Security Policy (PGSI, for its French initials).
All our operations are controlled and certified within the framework of a complete audit carried out every 2 years by DIGITEMIS (PASSI qualification by the ANSSI). Many other security measures are taken by Dolist. You can access them through our GDPR policy downloadable here.